Product Description
Removable Containerized Oxygen Plant Cost
Removable Containerized Oxygen Plant Description:
Oxygen is an indispensable gas for supporting life in the earth, special in the hospital, medical oxygen plays a very important role to saving the patients.
ETR Onsite PSA Oxygen Plant can produce 93%±3% medical level oxygen from the air directly, the produced oxygen can be delivered to the wards by the hospital pipelines, and then breathed by the patient with a humidification bottle. Compared with traditional bulk liquid oxygen and cylinders oxygen, ETR Hospital usage PSA Zeolite Molecular Sieve Oxygen Generator can reduce cost down to 50 percentages. They can produce oxygen by your will, overcoming the limits of distance, location and transportation. Hospital Usage PSA Oxygen Plant is a more economical and efficient and convenient oxygen solution for hospitals, and it is widely used by more and more hospital.
Compressed air is purified through the air dryer and filters to a certain level for main generator to work with. Air buffer is incorporated for smooth supply of compressed air thus to reduce fluctuation of compressed air source. The plant produces oxygen with PSA (pressure swing adsorption) technology, which is a time proven oxygen generation method. Oxygen of desired purity at 93%±3% is delivered to oxygen buffer tank for smooth supply of product gas. Oxygen in buffer tank is maintained at 4bar pressure.
Removable Containerized Oxygen Plant

Features

:



1) Highly efficient molecular sieves, making oxygen generation more efficient
2) Unique startup concentration maintenance function
3) Imported muffler, achieving an operating noise of less than 85 dB(A)
4) LCD touch screen interface, making setting of operating parameters more convenient
5) Integrated pipeline process, providing excellent air tightness
6) Intelligent control, enabling remote data transmission
7)Optional mobile phone APP monitoring system support for remote control.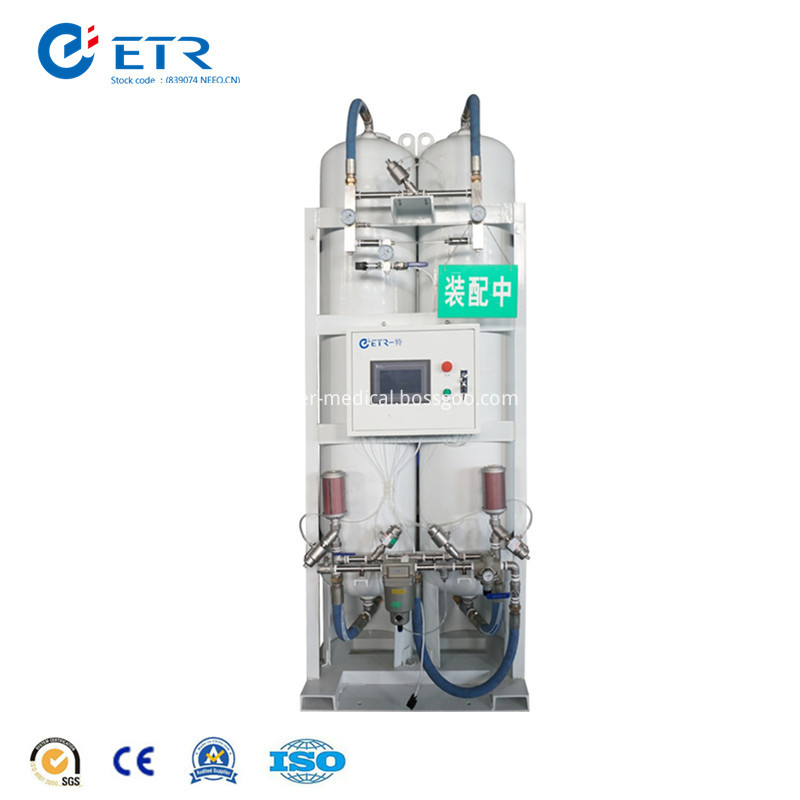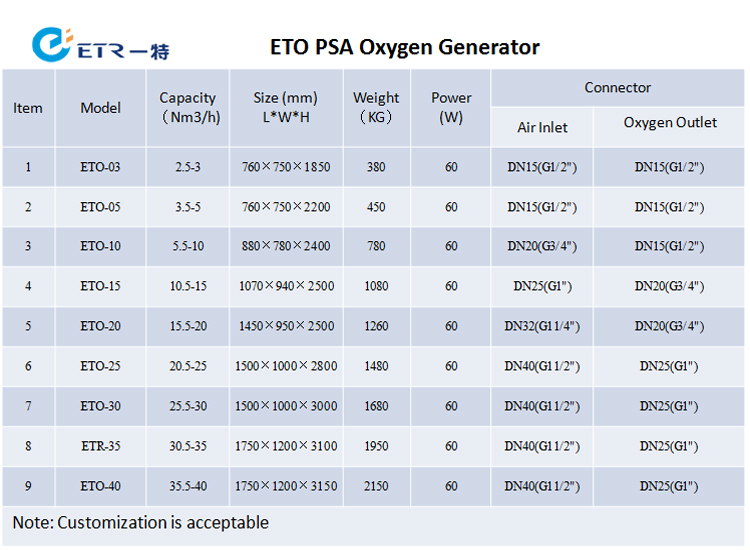 AFTER SALES SUPPORT
Warranty
The Guarantee/Warranty Period shall be a period of twelve months after on-site startup & commissioning or eighteen months after shipment, whichever occurs first. If any trouble or defect, originating with the design, material, workmanship or operating characteristics of any Goods, arises at any time during GUARANTEE/WARRANTY period, ETR shall, at his own expense and as promptly as possible, make such alterations, repairs and replacements.
On-Site Support
ETR can do paid services of on-site startup, commissioning, installation supervision, training, by providing purchaser with the services of qualified English-speaking
engineer at site. ETR shall obtain all permits and licenses required to perform the services under this Agreement.